Kirklands and TJ Maxx Haul
Dear blog, I did a little shopping recently. I wanted to make some changes in my living and dinning rooms. I first went to Kirklands looking for center pieces for my dinning table; I didn't quite find what I was looking for. I did find items I didn't mind having: I didn't purchase them but I wanted to. Kirklands has become one of my favorite stores to purchase home decor. I am a rewards member and love the free rewards. Being a member has it's perks; once you reach 300 points you receive $10. I became a member last year and I have been able to use two of the $10 rewards, on different occasions of course.
This is the
Silver Pineapple Figurine
, I thought it was really cute and it would go perfect on my table. I didn't get it because I wasn't sure what to pair it with on the table.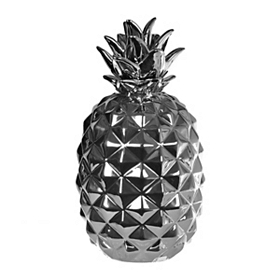 Also, I found a cute
monogram storage bin
, I had it in my buggy, but I ended up leaving it behind. I do regret not getting it, but I found another one for a great price at
TJ Maxx
. I couldn't find the exact one I purchased, but here is a similar one. Since it's rather cute, I'm thinking about putting it in my living room as storage for my children's toys or in the nursery for plush toys.
I'm really into the nautical theme for this summer, so I have gone a little over board with my purchases. I found this really cute sail boat, but I don't really remember where I purchased it. When I first purchased it, I wasn't entirely sure of where I was going to place it, but once I got home I found the perfect spot for it. I really like the way it turned out. I think it was just what I needed to complete my summer decor. You can find a similar one
here
, they look really cute as well.
Kirklands
is my favorite store for home decor, I can go broke in that store. I always find decorations that I want to buy!! I highly recommend this store to anyone who loves affordable home decor. I can go on about how great this store is, lol. I bought a bowl that looks Moroccan styled, or it looks that way to me. I got that vibe from the bowl by the bead colors. I couldn't find the bowl, but I did find some
candle holders
that look like the bowl.